**IMPORTANT: FRIDAY NIGHT DANCING SUSPENDED**
Regretfully we have suspended our Friday night dancing until further notice to help prevent spread of COVID-19 Coronavirus. See our News and Messages page for details.
Pasadena Folk Dance Co-op Welcomes You
International folk dancing is great exercise and a wonderful way to make friends. Click here to see a video showing you what folk dancing is and what it means to people. The Pasadena Folk Dance Co-op welcomes you to learn dances from around the world. Our friendly group usually teaches the same dances for the first four Fridays of each month, so there is no need to commit to a series of lessons. Just show up at 7:30 PM in casual clothes and comfortable shoes. No partner is needed and your second visit is free. Otherwise, the cost is $6 per night.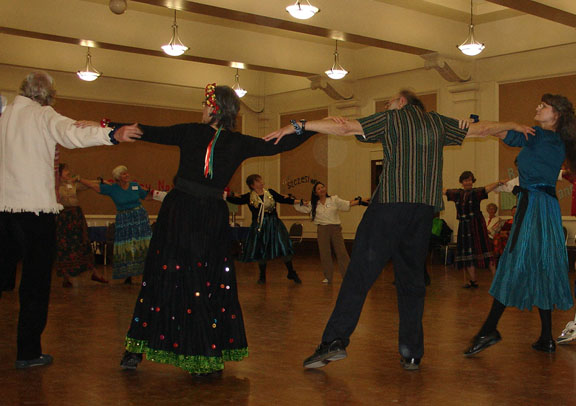 We dance every Friday night from 7:30 till 10:30 at the Altadena Community Church, 943 Altadena Drive, Altadena. We start with some warm-up dances and then begin Introductory teaching at 7:45. Intermediate teaching starts at 8:15.
Click here to view a short slideshow of who we are and to hear some folk music. Play this slideshow to get an idea of what folk dancing is like. See, it's pretty easy! …and isn't the music beautiful?
We are a very tolerant group with a wide range of ages and dancing abilities. Click here to see a slideshow of our May Day celebration.
Something special happened to the Pasadena Folk Dance Co-op over the past 70 years; it became a community! Folk dancing is a wonderful way to make new friends in a safe environment. Our dance group is one of the few places where unrelated people from different generations interact socially. Bonds are also formed among those with diverse political views, social classes, and ethnic origins. Friendships have lasted decades. Many folk dancers met their spouse or significant other while folk dancing.

Sometimes we just have zany fun, as you can see in this video.
We are a non-profit 501(c)(3) organization and a member of the Folk Dance Federation of California, South, Inc. For much valuable information on folk dancing, go to their website.