Friday Night Dancing is Back!!
We are dancing every Friday night at Altadena Community Church. See our Events page for details.
Pasadena Folk Dance Co-op Welcomes You
If you're new to folk dancing come for our beginner orientation sessions. This is a recently-started program where we offer half-hour beginner teaching sessions starting at 6:30 before our regular dancing. We cover types of folk dances, hand holds, some basic folk dance patterns, and two or three of the simplest dances. These are scheduled according to interest and availability–to find out about upcoming sessions, get in touch through the Contact page.
International folk dancing is great exercise and a wonderful way to make friends. Click here to see a video showing you what folk dancing is and what it means to people. The Pasadena Folk Dance Co-op welcomes you to learn dances from around the world. During our regular session, we teach the same dances for the first four Fridays of each month, so there is no need to commit to a series of lessons. Just show up in casual clothes and comfortable shoes. No partner is needed.  See the Events page for full details and our current Covid protocols.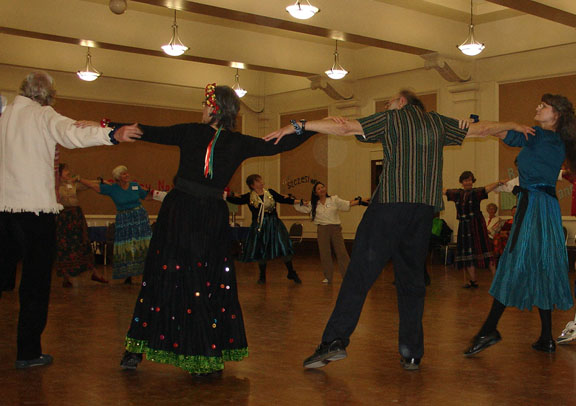 Click here to view a short slideshow of who we are and to hear some folk music. Play this slideshow to get an idea of what folk dancing is like.
Folk dancing is a wonderful way to make new friends in a safe environment. Our dance group is one of the few places where unrelated people from different generations interact socially. Bonds are also formed among those with diverse political views, social classes, and ethnic origins. Friendships have lasted decades. Many folk dancers met their spouse or significant other while folk dancing.

We are a non-profit 501(c)(3) organization and a member of the Folk Dance Federation of California, South, Inc. For much valuable information on folk dancing, go to their website.