Pasadena Folk Dance Co-op Welcomes You
We are an established folk dance group and we invite you to come and dance with us any Friday evening from 7:30 till 9:30. We do a variety of different ethnic dances from countries around the world, some quite simple and some more challenging. There's a teaching session early in the evening and the rest of the time devoted to programmed dances from our repertoire, plus requests, and of course socializing on the sidelines.
If you're new to folk dancing, we also offer introductory sessions starting a half hour before the regular program (no extra charge). These are scheduled according to interest and availability–not every week. We cover some basic principles and types of dances, and teach a few of the most common dance patterns plus two or three of the simplest dances.
For details and specifics, see our Events page.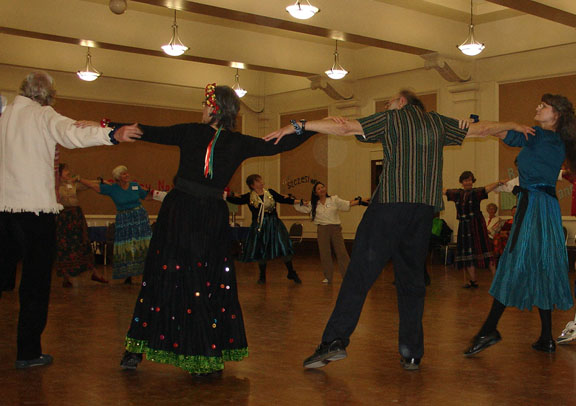 We are a non-profit 501(c)(3) organization and a member of the Folk Dance Federation of California, South, Inc. For much valuable information on folk dancing, go to their website.